Directors
Marcin Jamkowski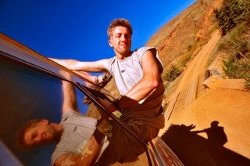 Graduated from the Chemistry Department of the University of Warsaw. Knight Foundation fellow and the student of MIT and Harvard. Science journalist working for, among others: Gazeta Wyborcza, Newsweek and the National Geographic where he was the editor in chief from 2005 to 2007. Journalist, explorer, photographer and filmmaker. Member of The Explorers Club. Took part in several research expeditions.
Career:
2011

"No Man Left Behind" - author - documentary about the 3 lat victims of the Vietnam war, commissioned by Canadian TV

2010

Duchy z głębi Bałtyku. Steuben, Gustloff, Goya (Ghosts from the Depth of the Baltic Sea. Steuben, Gustfoll, Goya) – book – published by Świat Książki.

2009-2010

Knight foundation fellowship; course at the Massachusetts Institute of Technology and Harvard.

2007

Setting up an independent photographic company: Adventure Pictures.

2005-2007

Editor-in-chief of the National Geographic; leading the Polish edition of the National Geographic Traveller.

2004

Organising an international expedition to the Steuben shipwreck, later described in a book.

2000-2005

Scientific journalist for the National Geographic.

2000

Climbing and stunt consultations for the film "To my" ("This is us") by Waldemar Szarek.

1999

Script consultation for the film "Dług" ("The Debt") by Krzysztof Krauze.

1995-2002

Science journalist for the Gazeta Wyborcza (daily newspaper).
Konstanty Kulik
Graduated from the Radio, Film and Television School of Great Poland in Poznan. Student of the Lodz film school. Producer of popular TV shows. In 2007 received the award for the best film and director for the documentary film "W poszukiwaniu legendy" ("Looking for the Legend"). Author of music videos, director, cinematographer, sailor. (portfolio)
Career:
2011

Graduated from the Krzysztof Kieślowski Radio and Television Faculty University of Silesia (film production)

2011

Scoring of the documentary film "Przyjęcie" ("Reception") by Maciej Bochniak.

2010

Creating the TV program "Hop na Glob" produced for TV Silesia.

2008-2010

Vice president for IT at Wytwórnia Marzeń GAMA 5 sp. z o.o.

2003-2009

Co-author and executive producer of the children's program Lippy and Messy produced for TVP.

2008

Sound cooperation for the documentary film "Złota rybka" ("Goldfish") by Tomasz Wolski.

2007

Author of the documentary film "W poszukiwaniu legendy" ("Looking for the Legend") awarded at the International Sport Film Festival in Palermo, Italy and Independent Film Festival in Zawiercie, Poland.

2006

Participation in the expedition on the North-West-Passage route of the Polish ship "Stary".

2005

Scoring of the documentary film "Florencja Polaków" ("The Florence of the Poles") by Hanna Terlecka.

2003-2005

Studied editing at the Lodz film school.