Habit and Armour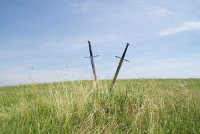 Habit & Armour film tell the story of Crusaders State at the Baltic shore and Commonwealth of Poland and Lithuania.
The Order of Brothers of the German House of Saint Mary in Jerusalem was founded in the 13th century in Palestine to convert and cure the sick.
After the defeat of the crusades the Teutonic Order settles on the frontiers of Mazovia, invited by duke Konrad II to help him secure the borders of the weak duchy.
Prussian villages are burning; sacred oaks are falling to the ground. The Order creates a state: perfectly managed, rich and attractive. The mighty castles-monasteries built in the territories of northern Poland and Lithuania still amaze us. In medieval Europe the Teutonic state had no equals. Well-organised administration, postal services, a network of schools, hospitals and booming commerce. A massive flow of settlers comes from the German states divided and torn with local conflicts. The Order rules the Hanseatic League and sets the course for regional politics. Yearly safaris against pagan Lithuanians lure the best knights from across Europe. But the Teutonic Knights want more...
Meanwhile Lithuania is baptised and joins forces with Poland in a wise alliance that becomes the cornerstone of a strong country in central Europe. Władysław II Jagiełło marries Jadwiga of Poland and thus becomes the king of the Polish-Lithuanian Commonwealth. The Order is so sure of its dominance that it ignores the papal interdiction of fighting Christians and attacks the despised neighbour. The great war between the Polish-Lithuanian Commonwealth and the Teutonic Order begins. In 1410 in the Battle of Grunwald Polish-Lithuanian-Ruthenian forces win a spectacular victory over the Teutonic Knights and their allies but the whole war ends with a compromise. Can nothing hurt the Teutonic Order? The self-confident Knights cannot notice the changes that surround them...
The Polish-Lithuanian Commonwealth offers its people a wide range of liberties in the 15th century. Now we would call them "civil liberties" and "economic liberties". In order to fight those, the Order demands rising taxes from its people. And the people demand the right to have their say. An Order cannot offer that... In the Thirteen Years' War the Order fights its own citizens. But it is unable to introduce reform...
So the people of the Teutonic state move to a place that gives them more freedom. They become part of the Jagiellonian Republic. The Prussian Homage of 1525 ends the history of the Teutonic corporation.
Its heritage, however, will become the foundation of the horrible wars of the 20th century.