About film
| | |
| --- | --- |
| Title | Kruzenshtern |
| Length | 52 min. |
| Genre | documentary |
| Completion year | 2009 |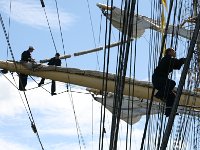 Director Maciej Cuske accompanies cadets of the Russian Baltic Fishery Academy on their virgin training voyage on board the Kruzenstern tallship.
The voyage begins in Kaliningrad. After crossing the Baltic, the Kruzenstern enters the North Sea, heading for the port of Bremerhaven. From there, a month later, sailing through the English Channel, they reach Santa Cruz on Tenerife. During the return voyage, the training tallship stops at the Spanish port of Santander and the German one of Rostock.
A film crew accompanied the students of the Marine Academy during two stages of the voyage: from Kaliningrad to Santa Cruz, and from Rostock to Kaliningrad.
The film 'Kruzenstern' is a story about growing up. Young boys, dreaming of adventure on the high seas, for the first time set out on a long voyage. This is supposed to be a test, both for them and their trainers. Will the dreams of the sea survive the hard trial of life and work on the tallship? Will the youths be able in time to proudly replace those who are passing their knowledge down to them?
The moment you board the Kruzenstern, it is captain Novikov who decides about everything – he is a young, composed and well educated chief of the tallship. Novikov is an authority for the young sailors, but also for the experienced members of the ship's crew. It is up to his decisions whether the boat is safe, therefore each of them follows his orders to the letter.
The sea does not like the weak. From the first moment, the trainees are treated as seamen by the crew and have to carry out the tasks entrusted to them. Under the watchful eye of the 'sea wolves' - the senior bosuns, they cover subsequent stages of marine expertise. The most dangerous is climbing the mast. This is a trial they want to put themselves to, no matter how scared they are. Those who are finally able to overcome the fear tell the others of an extraordinary experience: 'when you are up there, you are surrounded by the big blue, and there's nothing above you except God!'
Have the boys become men? Have they been successful? Will they become sailors? Have the old sea wolves been able to pass on to the young their passion for the sea? This is what 'Kruzenstern', by Polish director Maciej Cuske, talks about. It also shows how great an adventure it is to sail aboard the world's largest tallships. An adventure for the participants, and the viewers alike.
Trailer